Stradivarius
What to wear on a festival? Are shorts enough at night? What colours should I wear?
Here are some tips and useful items if you decided to visit a summer festival this year
.
bring some pair of sandals as it's summertime but don't forget about the waterproof shoes, summer boots
bring some pretty small bags you can simply throw on your shoulder. You will need to put your money, sunglasses in that. If you are practical enough, you take a bag that has enough space for a light cardigan as well.
Shorts and summer dresses might be enough during the day but at night you might be freezing in them. Take on a pair of colourful trousers or leggings when it is getting darker. They can be sooo pretty as well.
If you feel yourself a fan of simple and modest clothes, you can give them some extra if you add some colourful accessories: a fashionable bag, some nice sunglasses, a simple bracelet and some nail polish will do the trick and your top won't be a simple black top anymore.
If you find clothing boring, then it is time to wear some black and white clothes, then next time to try and combine some colourful ones, then switch to plain colours. Try to enjoy using what you have and also to enjoy yourself:)
Be aware of provocative clothes and labels! It is summer and there is heat, but don't let anyone see everything. Stay fab and pretty:) It is also not so charming if you have rude words on your top.
Bershka
Stradivarius
Pull&Bear
Stradivarius
Bershka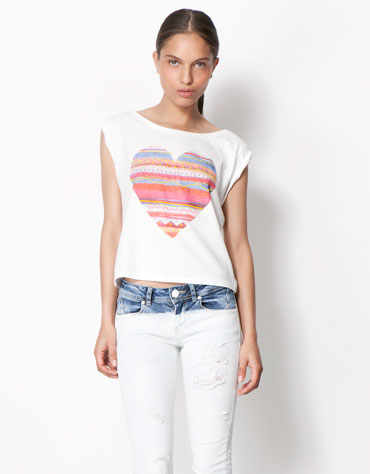 Bershka
Stradivarius


Parfois
Stradivarius
fab.com
Parfois
Pull&Bear
Pull&Bear
Pull&Bear
Tezenis
Pimkie